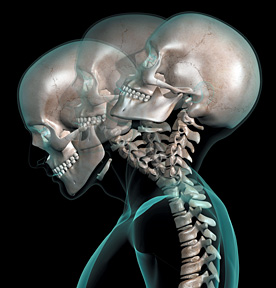 Whiplash is the most common injury associated with motor vehicle accidents, affecting up to 83 percent of those involved in collisions, and is a common cause of chronic disability.
The Quebec Task Force (QTF) on Whiplash Associated Disorders defines whiplash as "bony or soft tissue injuries" resulting "from rear-end or side impact, predominantly in motor vehicle accidents, and from other mishaps" as a result of "an acceleration-deceleration mechanism of energy transfer to the neck." It is estimated that as many as four per 1,000 people may experience a whiplash-related injury and associated pain syndromes. The overall economic burden of whiplash injury, including medical care, disability and sick leave, is estimated at a staggering $3.9 billion annually in the U.S. alone.
The mechanism of injury suggests that whiplash may occur as a result of hyperextension (excessive backward bending) of the lower cervical spine (neck) in relation to a hyperflexion (excessive forward bending) of the upper cervical vertebrae, producing a force of impact "whipping" through the body. The result is soft-tissue damage, inflammation and muscle spasm.
whiplash skeleton Whiplash is associated with a wide variety of clinical symptoms including neck pain, neck stiffness, arm pain, jaw pain, headaches and paresthesias (tingling/numbness), problems with memory and concentration, and psychological distress. Symptoms of whiplash may not present until several weeks after the causative incident. Frequently people experience little pain and discomfort in the early stages. However, after several weeks the body begins to manifest symptoms. It is this delayed onset of symptoms and lack of early treatment intervention which may cause the condition to become chronic and debilitating.
Whiplash Prevention
While a whiplash injury may be unavoidable if you're involved in a crash, there are simple but effective precautions you can take to minimize the risk. As they say, an ounce of prevention is worth a pound of cure.
Head restraint: If more than one person uses a car, it is better to adjust the head restraint for each driver and make sure that it's positioned according to the convenience of each driver. Not adjusting the head restraint for each driver greatly increases the likelihood of injury. The head restraint must be locked when driving. If the head restraint is not locked, it may move during an accident, taking away protective support when needed most and resulting in substantial injuries to the neck.
Evidence suggests that being the driver increases the chances of head injury by double and also shows that women suffer from whiplash injuries more than men because they tend to sit more upright and closer to the steering wheel. A study by Brian Stemper, PhD, assistant professor of neurosurgery at the Medical College of Wisconsin in Milwaukee, found: "Auto head restraints positioned less than 2.4 inches (6 cm) from the back of the head kept ligament stretch within the physiologic range – meaning that no injury would occur. However, as the restraint distance increased beyond 2.4 inches, the ligaments began to exceed failure thresholds, meaning that whiplash injury was more likely to occur."
http://www.toyourhealth.com/mpacms/tyh/article.php?id=1424