The Mets SS hurt his hamstring on Saturday; now he, and Mets fans, hold their breath
NEW YORK — The naked city did not need to hear a pop in Jose Reyes' hamstring to hear the pop in the Subway Series, the sure sound of a pin puncturing an overinflated event that could mark the beginning of the end of the New York Mets.
The air came hiss, hiss, hissing out of the holiday weekend the top-of-the-third moment the crowd realized that Ruben Tejada, not Reyes, was doing sprinter's stretches in the infield dirt separating second base from third.
[+] Enlarge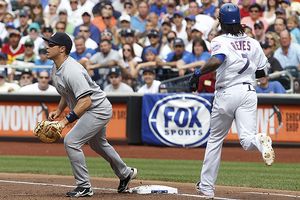 William Perlman/THE STAR-LEDGER/US PresswireReyes said he injured his hamstring running up the first-base line in the first inning.
If tens of thousands of paying customers filled Citi Field with the same fatalistic moans and groans that forever rattled about bad ol' Shea, they had nothing on the hamstrung shortstop, who has tens of millions of free-agent dollars on the line.
The very last thing Reyes needed Saturday, a day after Alex Rodriguez had called him "the world's greatest player," was an injury that would make his hopeless owner, Fred Wilpon, look like something of a sage.
"He thinks he's going to get Carl Crawford money," Wilpon now famously told the New Yorker of Reyes' alleged bid to match or beat Crawford's seven-year, $142 million deal with Boston. "He's had everything wrong with him. He won't get it."
Of course, Reyes hasn't had everything wrong with him. Starting in 2005, he appeared in at least 153 games over four consecutive seasons, and in at least 159 games over three of them.
But 2009 was an unmitigated disaster, resurrecting bygone concerns about the durability of Reyes' legs and ultimately inspiring fresh concerns about the wisdom of a financially strapped franchise giving its shortstop a nine-figure deal.
So here he was in the summer of 2011, running like mad in his walk year. Reyes was making a fan of A-Rod and a fool of Wilpon, making the game of baseball — a game that often comes across as glacially slow and outdated — look like the coolest and fastest sport of them all.
Until the first inning on Saturday. Until Reyes hit a slow chopper off returning New York Yankees starter Bartolo Colon, a chopper to the great Robinson Cano, the second baseman Brian Cashman had rated as a better player than Reyes and the best player in the series.
Subway Series: Greatest Hits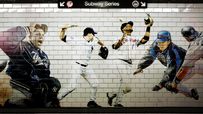 We look back at the Subway Series' top moments. Our List

Rank 'Em »
Cano's only chance was to field the ball with his glove and flick it to first without a transfer to his bare hand, and the end result was something straight out of a Daniel Murphy blooper reel. Reyes was standing on first with a .354 batting average, and the mood was set.
The shortstop would avenge his Friday night defeat, and the only hamstring in the building worth watching belonged to the overstuffed Colon.
Only Reyes had a secret he was keeping to himself. Halfway down the line, he felt something weird and unsettling in his left hammy. Soon enough Reyes was taking a short lead off the bag and hoping against hope that Carlos Beltran wouldn't send one toward the Citi Field walls.
"I was like, 'Please don't hit a gapper here,'" Reyes would say at his locker after the Yankees' 5-2 victory. "Oh boy, yeah, I was scared. … I didn't know if I could make it. I was just like, 'Please, just hit a single so I can just get to second base nice and easy.'"
On Colon's 3-2 pitch to Beltran, Reyes actually broke for second. As the center fielder was taking strike three, the shortstop listened to his body, stopped, and beat a head-first retreat to first.
Reyes played one more inning in the field before finally confessing to his boss, Terry Collins, who immediately removed him from the game. The shortstop put ice on his leg and threw cold water on the series.
When the Tejada substitution was announced to the crowd of 42,042, a Citi Field record, Collins said, "You sensed it not only in the dugout; you sensed it in the stands. The air came out of the bubble."
Colon pitched as if he'd never left, and Eduardo Nunez filled Reyes' role as the city's most electric athlete. Nunez kept ripping balls all over creation, even sending one over the wall and toward Trenton, where the rehabbing Captain Jeter likely got a message he didn't want to receive.
Mets blog

Looking for more information on your Mets? ESPNNewYork.com has you covered. Blog
But this game wasn't a referendum on the Yankees shortstops, not when the most valuable shortstop in the world was down and out on the losing side.
"I feel worried about it," Reyes said at his locker, "because I've been through this before. I didn't want to blow up my hamstring again because I've been through a lot with that."
The good news — if this qualified as good news — was that Reyes' 2009 problems were confined to his right leg. Saturday's injury, the shortstop said, "is not even close" to the injury he suffered two years ago, when it appeared Reyes would never, ever be healthy enough to emerge as a dominant offensive force again.
"But every time I have an injury to my leg," Reyes said, "I have to worry because legs are a big part of my game. … I have to be careful because I have so many leg problems in the past, so I don't want any injuries like that to get worse."
Wearing sandals, the shortstop made it from one end of the clubhouse to another without a limp. He said he felt no pain when walking. He said he did feel some discomfort when pressing his fingers against the back of his left leg.
So Reyes was scheduled for a 9:45 a.m. MRI on Sunday. These appointments never go the Mets' way, meaning the franchise desperately needs a favorable medical bounce here.
Once and for all, the Mets need a test result that benches a star player for a few days instead of a few months.
"When I tried to put pressure on my left leg," Reyes said, "it feels like my hamstring's going to blow up."
No, it isn't the way pending free agents in search of nine-figure contracts should talk. But the franchise player and his franchise had every reason to be afraid Saturday evening — very, very afraid — when the balloon popped louder than the hamstring.
Ian O'Connor is the author of The Captain: The Journey of Derek Jeter
Follow Ian O'Connor on Twitter: @Ian_OConnor
Please follow and like us: